Through three decades of increasing cybersecurity challenges and growing numbers of publicly disclosed events, there are solid reasons to have confidence that the United States will remain a leader in cybersecurity. Few countries can approach the growth and leadership of U.S. firms, from pioneering research and development (R&D) to the deployment of advanced technologies and practices. Across the noisy social media landscape, it's commonplace to witness claims and campaigns from other international players. For some, the result has been to think that the U.S. has fallen behind, and that we aren't keeping pace with cybersecurity threats. Unlike other nations, it vigorously pursues and prosecutes cybercrime organizations operating within its borders. The clear enforcement of the rule of law, regardless of the nationality of cybercrime targets, differentiates the U.S. approach to cyber intelligence gathering, and doesn't showcase the cyber capabilities built locally. With a little research, though, it's evident that the U.S. continues to have among the strongest nation-state-sponsored cybersecurity apparatuses.
Here are five factors that both drive and demonstrate this assertion: 
1. Strong Government Support
One of the primary reasons the U.S. continues to advance the state of both defensive and proactive cybersecurity is the strong support of the federal government through both policy and investment. Over the past 25 years, the U.S. has highlighted cybersecurity in funding for research and development of new technologies, while creating and expanding specific federal agencies dedicated to addressing cyber threats.
2. Robust and Resilient Technical Infrastructure
Stretching back to 1997, with Presidential Decision Directive 63, the U.S. government has recognized and supported better visibility and protection of critical infrastructure. While other nation states have emphasized tooling for surveillance and exploits, U.S. investment and policy has encouraged public and private sector organizations to develop and deploy improved defensive measures. As a result, most organizations leverage multiple cybersecurity measures (e.g., firewalls, antivirus software, intrusion detection systems, etc.) and well-established processes and protocols for responding to cyber threats. 
3. Skilled Workforce
The U.S. remains the preferred destination for many technical workers and young technology companies. This results in a highly skilled pool of resources from which to develop an effective cyber workforce. Experienced cybersecurity practitioners, from administrators and developers to engineers and analysts, give the U.S. the strongest cybersecurity talent pool in the world. It's easy to be skeptical given recruitment and retention challenges, but the cybersecurity workforce skills gap is relative. The U.S. has one of the best education systems in the world for technologists, and cybersecurity specifically. Between that training and strong financial motivation to excel in cybersecurity, it's reasonable to assume that the U.S. is producing human cybersecurity capital at a higher rate than other nation states.
4. Cutting-Edge R&D
Research into patents, venture investment, and startup companies shows that the U.S. is also a leader in cybersecurity R&D. From universities and research institutions to private enterprise, many of the world's top cybersecurity experts and innovators either originate in, or relocate to, the U.S., creating the largest number of cybersecurity companies in the world. Beyond the obvious economic value, this growth helps the U.S. remain at the forefront of cybersecurity R&D, resulting in early deployment of the most advanced technologies and practices. The amount of U.S. private investment into cybersecurity companies is staggering, with Crunchbase statistics showcasing the results. While the investment velocity changes, the volume remains exceptionally high overall. 
5. Strong Partnerships
Finally, and maybe most significantly, the U.S. is leading in cybersecurity because of strong partnerships with other countries and organizations. Whether in collaboration with private companies, governments, or international groups, the U.S. has successfully leveraged the collective knowledge and resources of its partners to strengthen its cyber defenses. 
Despite the challenges and vulnerabilities in the realm of cybersecurity, the U.S. has remained a leader thanks to strong government support, robust infrastructure, a skilled workforce, cutting-edge R&D, and strong partnerships. By continuing to invest in these areas, the U.S. will stay ahead of cyber threats and maintain its position as a leader in cybersecurity.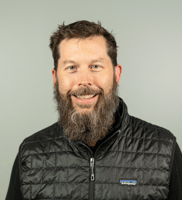 Justin Fimlaid
Justin (he/him) is the founder and CEO of NuHarbor Security, where he continues to advance modern integrated cybersecurity services. He has over 20 years of cybersecurity experience, much of it earned while leading security efforts for multinational corporations, most recently serving as global CISO at Keurig Green Mountain Coffee. Justin serves multiple local organizations in the public interest, including his board membership at Champlain College.